The WooCommerce my account page customization plugin empowers you to personalize your WooCommerce my account page. It proves particularly useful when you aim to modify the visual design, incorporate new features, or enhance the overall user experience. Furthermore, this plugin facilitates adjustments to the My Account page layout, permits the addition of custom fields, and offers flexibility in determining the field display order.
Customizing this page is an essential strategy for enhancing user interaction and making your online store stand out. Several plugins are available to assist with these tasks. We've handpicked the best plugins for you to customize your WooCommerce my account page.
Why Customize Your My Account Page?
Customizing the WooCommerce My Account page offers various benefits. Whether you seek layout modifications, extra information, or streamlined customer account updates, a dedicated plugin can address your specific needs. As a WooCommerce store owner, you recognize the pivotal role of the custom My Account page, enabling customers to review order history, edit account details, and monitor orders. The default WooCommerce My Account page offers limited functionality.
Fortunately, numerous plugins are at your disposal to customize my account page. By installing a WooCommerce customize my account page, you can expand the page's features, including layout adjustments, new form fields, and the addition of a sidebar linking to other site pages. This enhanced customization facilitates information accessibility for your customers, ultimately enhancing their site experience. Now, let's explore the top plugins that will help you take your WooCommerce My Account page to the next level.
Customize Account Page & User Dashboard for WooCommerce

The Custom My Account Dashboard for WooCommerce plugin is one of the best plugins designed to provide an enhanced and customized user experience within your WooCommerce store. This plugin allows you to completely customize the WooCommerce my account page for your customers, offering a unique and user-friendly interface.
You have the flexibility to create personalized, role-based dashboards, offering different content and functionalities for distinct customer groups. This can be particularly valuable if you operate a complex online store with varying customer needs. The plugin features a drag-and-drop dashboard builder that simplifies the process of adding or rearranging elements, including widgets, links, and content.
Key Features:
Add new tabs to the My Account page
Edit default tabs on the My Account page
Change the location and style of the account menu
Customize the content of individual tabs
Enhanced User Engagement
Customize My Account for WooCommerce

This plugin offers extensive customization options for your WooCommerce My Account page.
With this plugin, you can gain precise control over the layout and appearance of your My Account page. You can effortlessly reorder, add, or remove tabs to curate a user experience that suits your specific requirements.
This plugin provides an intuitive drag-and-drop builder, simplifying the process of crafting your desired My Account page structure. Furthermore, it offers extensive styling options, allowing you to tailor the colors, typography, and design elements to match your website's theme. The plugin even supports the addition of custom content and shortcodes, enabling you to integrate dynamic and informative elements onto your My Account page.
Key Features:
Intuitive Drag-and-Drop Builder:
Comprehensive Styling Options
Dynamic Content Integration
Manage and organize multiple tabs
User-Friendly Customization
YITH WooCommerce Customize My Account Page

The YITH WooCommerce Customize My Account Page plugin is a comprehensive tool for fine-tuning your My Account page. It goes beyond basic customization by allowing you to add new tabs, change tab labels, and rearrange the default WooCommerce tabs.
The plugin features an intuitive drag-and-drop interface, making it straightforward to add and organize content on your My Account page. You can even create custom endpoints and effortlessly associate them with specific content or functionality. YITH is known for its strong customer support and consistent updates, ensuring compatibility with the latest WooCommerce versions.
Key Features:
Icon customization.
Button styling.
Customizable labels and messages.
Easy-to-use interface.
WooCommerce Account Pages

The WooCommerce Account Pages plugin by IconicWP is a powerful tool designed to transform your WooCommerce My Account pages into highly customizable, professional, and engaging user interfaces. You can customize my account for WooCommerce with this plugin that matches your brand's appearance and requirements. It empowers you to easily customize the layout, tabs, and content of your My Account pages with its drag-and-drop builder.
You can create dynamic pages with various elements like custom tabs allowing you to present information in an organized and visually appealing manner. Furthermore, it offers advanced conditional logic, which means you can display or hide content based on user roles and purchase history. With this plugin, you can elevate the user experience and improve customer engagement.
Key Features:
User-friendly drag-and-drop builder for easy customization.
Create dynamic pages with custom tabs, tables, accordions, and widgets.
Advanced conditional logic for displaying content based on specific criteria.
Improve user experience and customer engagement.
Elevate the professionalism and branding of your WooCommerce store.
WooCommerce My Account Page Plugin

The WooCommerce My Account Page plugin is a versatile tool for customizing your WooCommerce My Account page. With this unique My Account page WooCommerce plugin, you have the ability to both add new endpoints and edit the account page using the WYSIWYG editor.
Moreover, it empowers you to establish endpoints that are personalized to specific user roles, making it one of the most effective WooCommerce My Account plugins available. Additionally, customize my account page WooCommerce plugin is fully compatible with shortcodes, enhancing your ability to expand the functionality of the account page.
Notable Features:
Create new endpoints that are customized according to the user's role.
Access a variety of layout options for the account menu
Benefit from built-in spam protection features for a secure user experience.
Utilize the WYSIWYG editor to easily personalize your endpoints
Choose from multiple menu styles to customize the Users' Account page
SS WooCommerce My Account Ajax Tabs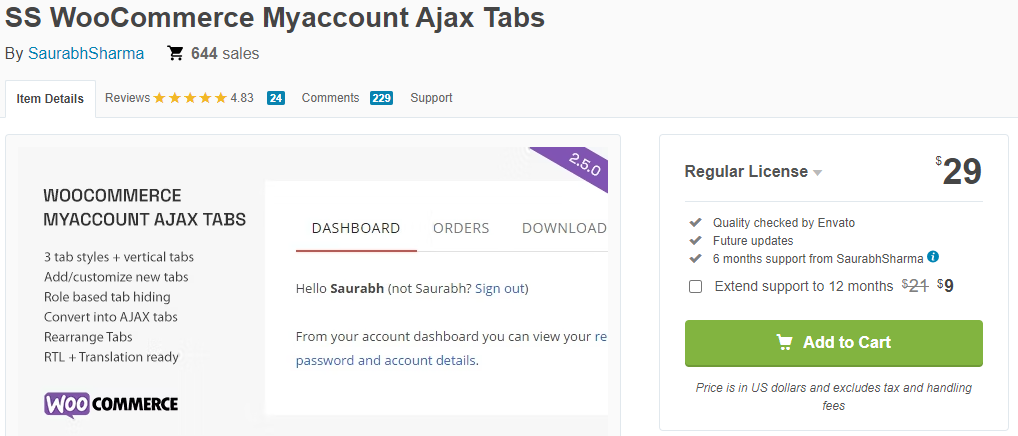 SS WooCommerce My Account Ajax Tabs primarily focuses on enhancing the functionality of tab links within the account page. This specialized WooCommerce plugin for customizing the My Account page allows users to seamlessly navigate tab links without triggering a page refresh. You have the flexibility to add an unlimited number of tabs and configure submenus beneath these tabs.
Furthermore, this WooCommerce My Account page customization plugin provides various layouts, multiple menu options, and pre-designed templates, offering a diverse range of design choices. In essence, this user-experience-centric My Account page customization can leave a lasting impression on your site's visitors.
Key Features:
Convert WooCommerce My Account tabs into ajax-based tabs.
Easily convert extra tabs into one or more sublink menus
Choose from default, classic, and flat tab styles
Enable or disable Ajax features
Enhance user experience.
WooCommerce Custom My Account Pages
WooCommerce custom my account pages plugin offers an easy and intuitive way to create and manage custom tabs, significantly expanding the functionality and personalization options for the My Account page on your WooCommerce store. With this plugin, you can create new tabs to display relevant information, such as additional account details, order history, or special offers.
You can also add custom content, links, and forms to these tabs, providing a tailored experience for your customers. The plugin allows you to reorder or rename existing tabs, ensuring that your My Account page meets your specific requirements. This plugin makes it easier for customers to interact with your e-commerce platform, which improves their engagement and satisfaction.
Key Features:
Create Custom Tabs
Custom Content and Forms
Tab Management
Improved User Engagement
User-Friendly Interface
Conclusion
Customizing your WooCommerce My Account page is a great way to improve the customer experience, build trust, and boost sales. The above-mentioned WooCommerce my account customization plugins offer a variety of features and capabilities to help you do just that. Choose the plugin that best meets your needs and preferences, and embark on a journey of improved user interaction. In today's competitive e-commerce landscape, staying ahead of the competition is essential, and a well-customized my account page for WooCommerce is a step in the right direction. Don't wait – enhance your store's user experience today with these fantastic plugins.