In a WooCommerce online store, you may want to explore various strategies to enhance the customer experience. A variety of approaches can be used depending on the nature of your business. Product Bundling is one such strategy where customers have the option to purchase multiple items together at a more attractive price than buying them individually. One way to achieve this is by using the WooCommerce mix and match plugin.

Shoppers today are not just looking for products, they are seeking unique and personalized experiences. This plugin will enhance your e-commerce website's shopping experience. In this article, we will explore how WooCommerce custom product boxes can help you create unique shopping experiences for your customers and boost your sales.
What is the WooCommerce Mix and Match Plugin?
WooCommerce custom product boxes is a popular plugin, which is a widely used e-commerce platform for WordPress websites. This plugin allows you to create product bundles or mix and match offers on your online store. With this plugin, you can offer your customers the flexibility to choose multiple products and create their own WooCommerce product bundles at a discounted price.

Advantages of Using WooCommerce Mix and Match
This plugin enables the customers to choose the products they want and the quantity of each product. By allowing customers to buy products in bulk, a mix and match plugin can help them save money on their purchases. Giving customers the ability to create their custom product assortments can make the shopping process more fun and engaging.
Personalized Shopping Experience
WooCommerce mix and match products plugin enables you to provide a personalized shopping experience for your customers. Instead of presenting them with pre-packaged product sets, you empower your customers to create their bundles.
Imagine you run a clothing store. With this plugin, customers can select different items such as shirts, pants, and accessories to create their unique outfits. This personalization not only attracts customers but also encourages them to explore more of your offerings, increasing the average order value.
Boosting Sales Through Cross-Selling
Cross-selling is a proven strategy in e-commerce, and the custom product boxes for WooCommerce make it easier than ever. By allowing customers to mix and match products, you can strategically display related items that complement their selections.
Let's say a customer is creating a custom skincare bundle on your website. You can suggest additional skincare products like moisturizers or serums that pair perfectly with their chosen items. This not only enhances their shopping experience but also increases the likelihood of them adding more items to their cart.
Stand Out from the Competition
In a competitive e-commerce landscape, standing out is essential. By offering a unique shopping experience, you set your store apart from the rest. Potential customers are more likely to choose your store over others if they can create custom WooCommerce product bundles that align with their preferences.
Easy Implementation and Management
This plugin seems complicated to configure and implement but WooCommerce product boxes are incredibly user-friendly and simple to set up. You can start selling product bundles on your site with a few adjustments. You simply need to add some of the products you want to show in bundles and configure their basic settings. It requires no technical knowledge of programming or coding everything will be set up by this plugin.
Setting Up WooCommerce Mix and Match Plugin
You can download WooCommerce Mix and Match product boxes plugin from WooCommerce Dashboard. Make sure that you have the latest WordPress and WooCommerce plugins to make this plugin work effectively.
Installation and Configuration
After downloading the WooCommerce custom product boxes from WooCommerce go within the WordPress admin panel.
Then navigate to the Plugins section and click on Add New.
Choose the option to Upload, and then select the ZIP file you recently obtained.
Proceed by clicking on Install Now, and Activate the Plugin.

To set up the extension, navigate to WooCommerce > Settings in the WordPress admin panel. You'll discover the Custom Boxes tab in this location.
In this tab, you can configure some general settings such as you can select the layout of the custom product boxes i.e. detailed and compressed which will be displayed on the product page. It also enables you to select the style between Grid and List view. If you have enabled the detailed view it will also display the product's short description.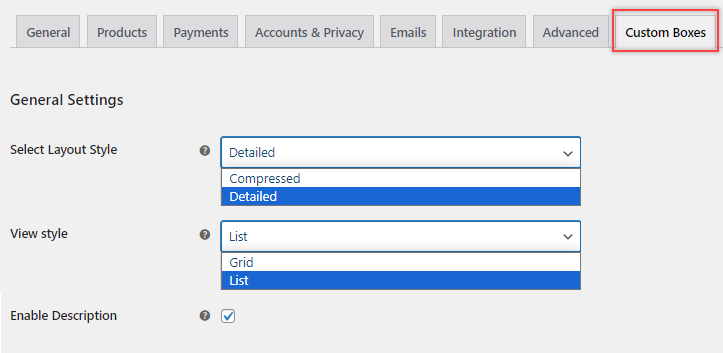 However, this plugin offers many customization options like changing the background color of WooCommerce custom product boxes to align them with your website theme. You can customize the text of the add-to-cart button and the header of the mix and match product boxes. Along with that display customized messages when the box is full or the customer doesn't meet the requirements.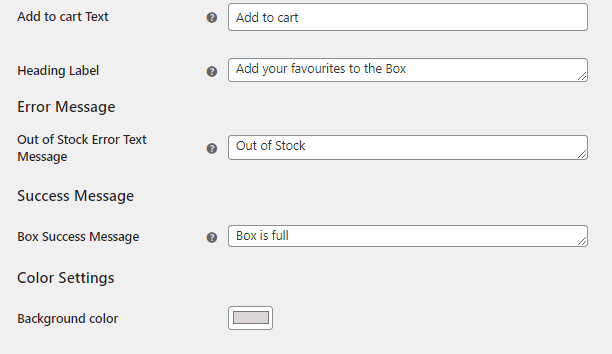 Creating Custom Product Boxes
To create WooCommerce mix and match boxes, navigate to WooCommerce > Products > All Products and click on Add New or you can edit the existing product. Scroll down to the Product Data tab, and change the product type to Custom Product Boxes. By clicking this button, you will be able to access the "Product Boxes" tab.
Configure these settings to create an engaging WooCommerce product bundle for your customers. These settings are very simple and do not require any technical expertise. First, you have to enable the product boxes by clicking on the checkbox. After that, you can set the pricing type for the product boxes. There are three types of pricing that you can choose from according to your pricing strategy.
Fixed Pricing: This pricing type enables you to charge a fixed amount for the WooCommerce bundle. There will be no extra charge for the number of quantity or items.
Per Item Price with Base Price: This enables the store owner to charge the price of the per product and quantity along with the base price of the bundle. For example, if you have set the price of the bundle to $10 and the price of multiple items is $50, it will charge the customer a total of $60.
Per Item Price Without Base Price: This pricing type only calculates the per-item price without any price of the bundle. Multiple products can be purchased in a bundle, and each will be charged separately. 
WooCommerce mix and match plugin enables you to set the maximum number of products allowed in one box. You can also let customers checkout without purchasing the whole bundle by enabling a partially filled box. However, you can set the minimum quantity required for a partially filled box
By default the products in boxes are displayed in the sequence you added them, although you can also sort the products according to your publishing date. If the customer is purchasing the product for their loved ones WooCommerce gift box enables you to display the gift message field along with the bundle.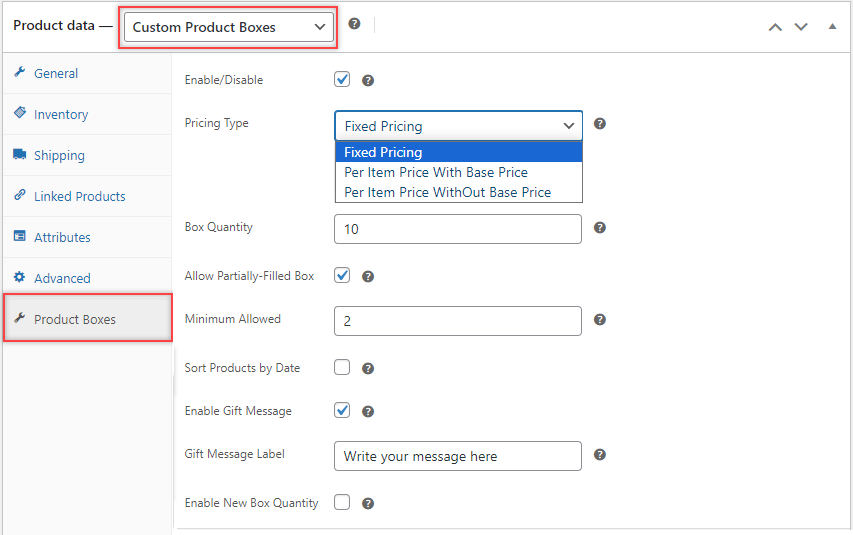 This plugin also lets you enable multiple custom product boxes, it will allow customers to create multiple product boxes separately. Moving on, the process of adding products to the bundle is simple, just select the product and it will start displaying on the front. You can also create prefilled boxes to sell the low-performing products as mandatory and force customers to buy a specific product along with the rest of the bundle.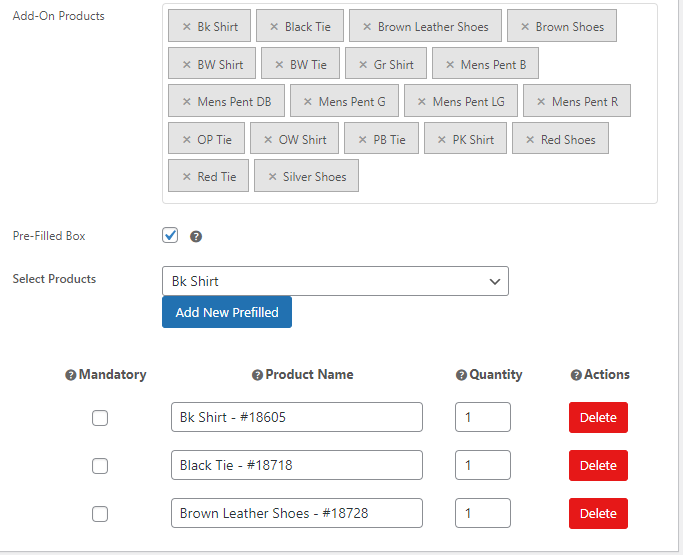 Conclusion
WooCommerce Mix and Match Plugin offers unique shopping experiences, boosts sales, drives customer engagement, and helps you stand out from the competition. It's a valuable addition to any online store looking to provide a shopping experience to their customers and increase overall profitability. So, if you're looking to take your WooCommerce store to the next level, try this plugin and improve the overall performance and provide unique shopping to your customers.