If you're running an eCommerce store, you know the importance of offering customization options to your customers. One of the most effective ways to do this is using the WooCommerce product addons plugin. In this comprehensive guide, we'll walk you through the step-by-step process of adding multiple product options to your online store to enhance your customers' shopping experience.
By the end of this article, you'll not only understand how to implement this powerful plugin to store but also how it can improve your store's performance. The plugin will help you Increase customer satisfaction and generate more revenue. Let's explore how to add custom product options to your store.
What is WooCommerce Custom Product Addons?
WooCommerce addons is an additional option that you can offer alongside your main products. These addons allow customers to enhance, personalize, or modify the products they intend to purchase. Whether it's adding a personalized message, selecting a specific color, or choosing from various sizes, Product Addons provide flexibility to your customers during the shopping process. These product options enhance the basic product, making it unique to each customer's preferences.

Features of WooCommerce Product Addons
Multiple Field Types
One of the standout features of WooCommerce extra product options is its extensive range of field types. These field types enable you to gather specific information or preferences from your customers, allowing them to personalize their orders.
Conditional Logic
WooCommerce product options is equipped with powerful conditional logic functionality. This means you can set specific conditions that determine when certain addon fields are displayed to customers. Conditional logic ensures that customers are presented with relevant choices, enhancing their overall shopping experience.
Pricing Flexibility
With this plugin, you have complete control over the pricing of your product addons. You can choose to set fixed prices or apply percentage-based pricing for addons. It enables you to effectively customize pricing options according to your business strategy, and maximize profit.
Global and Product-Level Options
You can configure addon options globally or at the product level, depending on your specific needs. Global options apply to multiple products, streamlining the process if you offer similar customizations across your store. Customization at the product level is unique to each product and can be more detailed.
User-Friendly Interface
Its user-friendly interface simplifies the process of creating and managing product addons. To fully capitalize on its potential, you do not need to be a technical expert. WooCommerce Product Addons seamlessly integrates with your WordPress dashboard, making it accessible and easy to navigate.
Why Should You Use Product Addons?
Enhance Customer Experience
It is crucial to provide customers with a unique and personalized shopping experience in the highly competitive world of eCommerce. Product Addons enable you to cater to individual preferences, making your customers feel valued and appreciated.
Boost Sales
When customers can personalize their purchases, they are more likely to buy. Product Addons can increase the average order value by encouraging customers to add extra items or enhancements to their cart. This will help you boost your sales and revenue.
Stay Competitive
Nowadays, standing out from the competition is essential in the crowded eCommerce market. Product addons differentiate your offerings from competitors, making your store more appealing to customers seeking unique and personalized products.
Personalized Marketing
With data on customer preferences gathered through product addons, you can tailor your marketing efforts more effectively. Send personalized recommendations and offers based on customers' previous product selections.
How to Install WooCommerce Product Options?
To set up WooCommerce product addons, you'll need a functioning, up-to-date version of WordPress and the WooCommerce plugin. Follow these steps to install WooCommerce Custom Product Addons from the WordPress Admin Dashboard:
Download the WooCommerce Product Addons from CodeCanyon and obtain the .zip file.
Within the WordPress admin panel, navigate to the Plugins section and select 'Add New' to upload and install the plugin.
Proceed by uploading the .zip file.
Allow the plugin installation to complete. Once it's successfully installed, activate the plugin, and then proceed to configure the settings.

Creating Global Product Addon
In your WordPress dashboard, go to Product Addon. After that click on Add New to create a new rule for the product addon or edit the existing global product addon rule. Then you set the name of the rule to minimize the confusion if you want to create multiple rules. After that also set the sorting of the fields in case you have created multiple global rules for the same product.
It also allows you to enable or disable and also set the pricing type for the product addons. After configuration click on the Add New Option to include the product option. It will provide you with 15 types of fields from which you can select according to your preference. However, you can also set the product fields as mandatory or optional.
WooCommerce custom product fields let you manage the stock of the addons ensuring the customers know the remaining number of products before adding the addons. You can manage the pricing i.e. fixed or percentage pricing of each product option and you can multiply the price by quantity.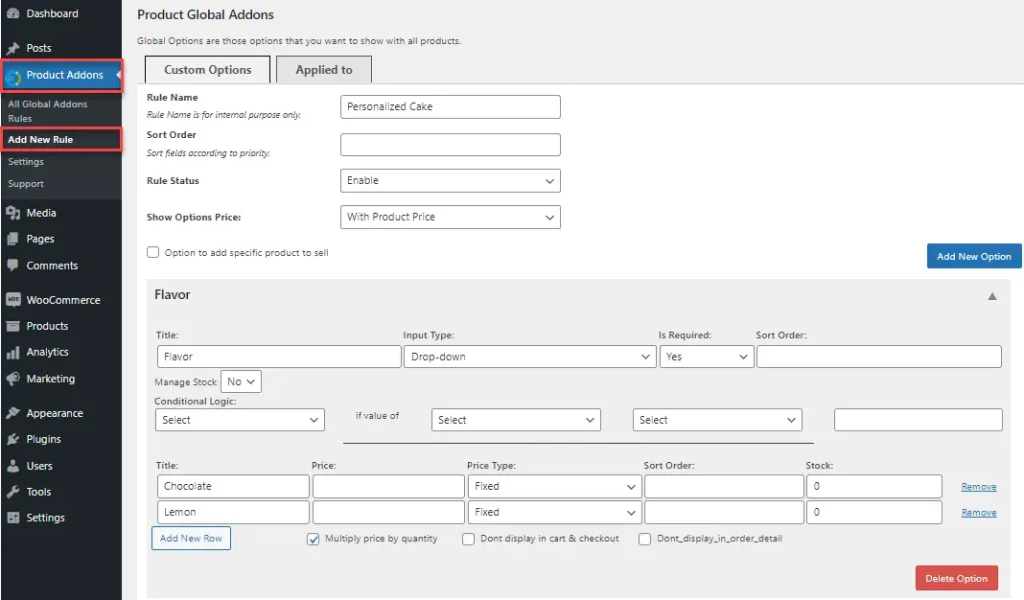 Creating Product Addon at Product Settings
In the WooCommerce Dashboard sidebar, go to Products > All Products. You can edit or Add a new product. Open the Product and scroll down to Product Custom Options. Click on the Add. New Option to create a product option. You can configure the product options at the product level same as you will configure the global addons.
You can also exclude the Global Addons for the specific product by checking the checkbox, it will only display the product level options. However, you can display both at the product level and you can set conditional logic only to product level options.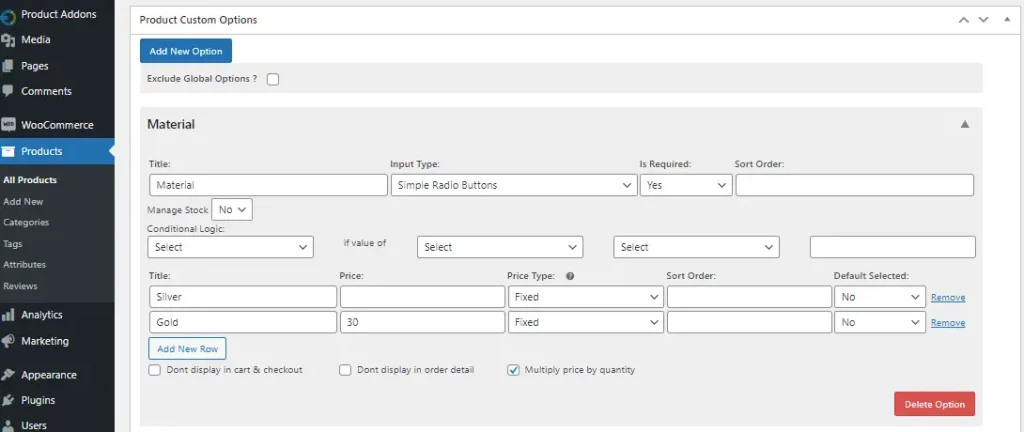 Note: The priority of the Custom Options at the product level setting is high. It shows the custom product options above the global options at the front end.
Once you've added all the desired addons and configured their settings, click the Save or Update button to save your changes. Your product will now display the addons you've created when customers view it on your website.
It's essential to test the product to ensure that the addons are displayed correctly and function as intended. Go to your website's front end, locate the product, and try adding it to the cart. Verify that the selected addons are reflected in the cart and checkout process.
Conclusion
WooCommerce Product Addons is a powerful tool that can revolutionize your eCommerce store. It allows you to cater to the unique preferences of your customers, ultimately leading to increased sales and customer satisfaction. By following the installation and configuration steps outlined in this guide, you'll be well on your way to providing a personalized and exceptional shopping experience for your audience. Make your eCommerce business stand out in a competitive market.