In the dynamic world of e-commerce, providing a seamless and personalized shopping experience is crucial. Your WooCommerce my account page plays a pivotal role in shaping how customers interact with your online store. However, the default My Account page in WooCommerce is simple and doesn't offer many features.
With WooCommerce plugins, you can customize my account for WooCommerce to meet the specific requirements of your customers. These plugins extend the page's functionality, providing a more tailored experience for your online shoppers.
Importance of Customizing WooCommerce My Account Page
Before we dive into the specifics, let's understand the importance of WooCommerce my account customization. The WooCommerce my account page serves as a personalized hub for customers, allowing them to track orders, manage account details, and access critical information. Customizing this page elevates brand identity, improves navigation, and fosters a user-friendly environment.
Best WooCommerce My Account Page Customization Plugins

The Custom My Account Dashboard for WooCommerce plugin enhances the WooCommerce user experience by allowing seamless customization of the account dashboard. Users gain passive control over elements like order history and personal details, ensuring a personalized and branded interface.
It lets you revamp the standard My Account page into an engaging and modern space where customers can spend quality time on your website. This extension lets you add unlimited endpoints and customize their content and icons. WooCommerce customize my account page plugin lets you choose between two i.e Custom and Prebuilt Dashboard. You don't need any coding skills to customize your WooCommerce account page.

Enhance control over your account page and elevate customer experience with the WooCommerce my account page customization plugin. Easily modify your account page by adding new endpoints or utilizing the powerful Gutenberg editor. It empowers you to generate new endpoints customized to user roles.
Any business that wishes to improve customer experience on its account page will benefit from this plugin. It allows you to easily add or remove features, adjusting the layout to align with your brand. If you're in search of a feature-rich and user-friendly WooCommerce my account page design plugin, this is the ideal choice.
Customize My Account Page for WooCommerce

By using this plugin, you will gain access to a new interface for editing the My Account pages. Indeed, the interface introduced by this plugin is quite sophisticated and stands out as its most notable feature. Within the built-in editor, you can input your content and choose an icon for each endpoint.
Additionally, you have the option to limit access to any endpoint (account page) based on specific user roles and rearrange them effortlessly using drag and drop. Considering the array of features and the robust style customization options, Customize My Account for WooCommerce stands out as one of the top plugins available for customizing your WooCommerce account pages.
WooCommerce Account Pages

The WooCommerce Account Pages plugin makes it easy to customize "My Account" pages and add new tabs. This plugin seamlessly integrates new pages as subpages beneath the My Account section. Each newly added page will automatically appear as a dedicated tab within the user's account dashboard. Additionally, you have the flexibility to remove tabs as needed.
This plugin grants you full control over the content in each tab, allowing you to add videos, images, and any other desired content using either Gutenberg or the Classic Editor.You can also customize the content of the existing tabs. It's very easy to use and it works perfectly for creating custom account pages in WooCommerce.
YITH WooCommerce Customize My Account Page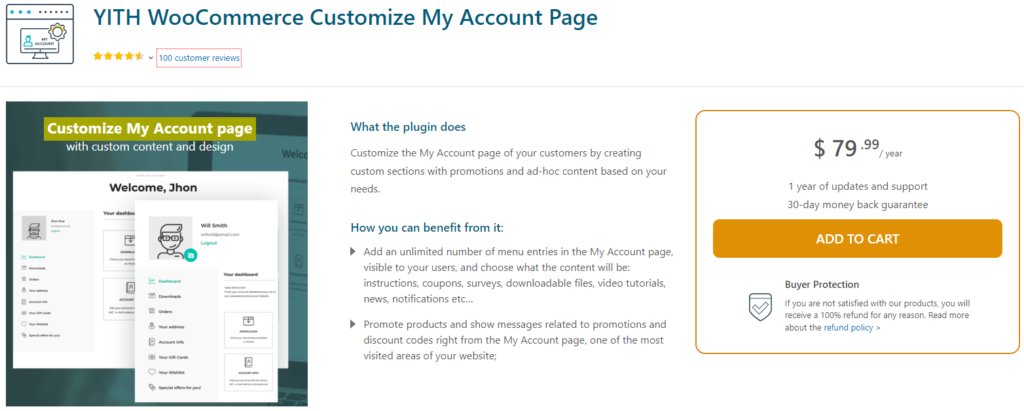 The YITH WooCommerce Customize My Account Page plugin is another excellent choice for creating personalized account pages for your customers. While the previously mentioned plugin is simpler to use, this plugin boasts a wider range of features and a stunning design.
This plugin is the ideal choice if you're dissatisfied with the appearance of your current account pages. It will transform your My Account pages into visually appealing hubs, regardless of the theme you're using. Additionally, it offers a variety of options for customizing the style and layout to perfectly match your preferences.
My Account Page Editor

If you're searching for a WooCommece account builder plugin, My Account Page Editor is an additional good choice. Easily add or remove pages from the customer's account and enter custom content using the familiar Classic Editor. You can also rearrange menu items with a drag-and-drop interface.
My Account Page Editor shares some common features with other plugins on this list, such as user role-restricted pages, icons for every page, and groups for subpages. Four layout styles and four color options are also included.
WooCommerce Custom My Account Pages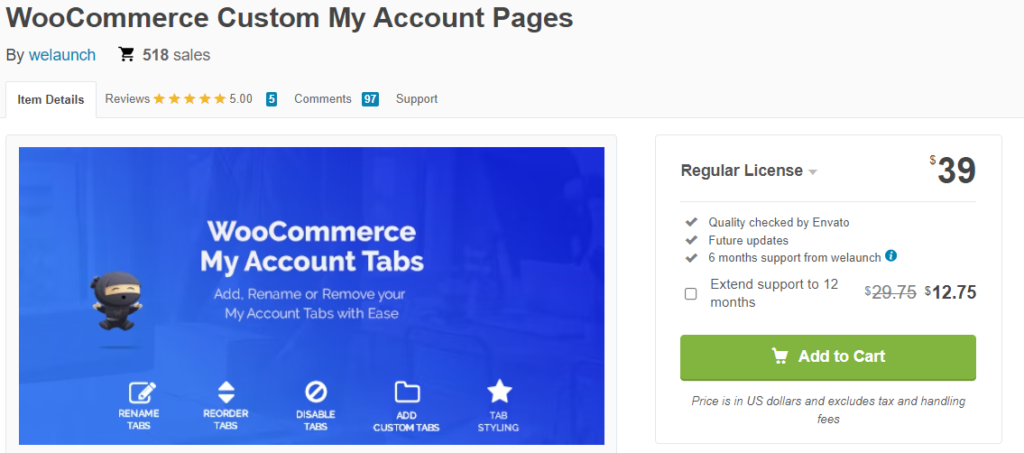 WooCommerce Custom My Account Pages lets you easily manage and customize your account pages. This plugin empowers you to revamp the entire user account experience by editing the content of each page. You can change the content of each page, move them around, or even replace the default pages with your own designs.
This plugin stands out from the competition by offering seven diverse content types for each page. Unlike most plugins that limit you to a content editor, this plugin allows you to create menu items from links, execute custom PHP functions, display the cart, or showcase your product categories.
SS WooCommerce My Account Ajax Tabs
This plugin enhances the user experience by enabling smooth navigation through tab links without page reloads. It empowers you to add an unlimited number of tabs, establish sub-menus under existing tabs, and incorporate sub-page links with page recording capabilities.
Additionally, it seamlessly integrates with the latest versions of WooCommerce. This plugin provides a variety of layouts with multiple menus and pre-made designs, allowing you to create a My Account page that is both visually appealing and user-friendly. It focuses on user experience to ensure that your customers will have a positive experience.
User Registration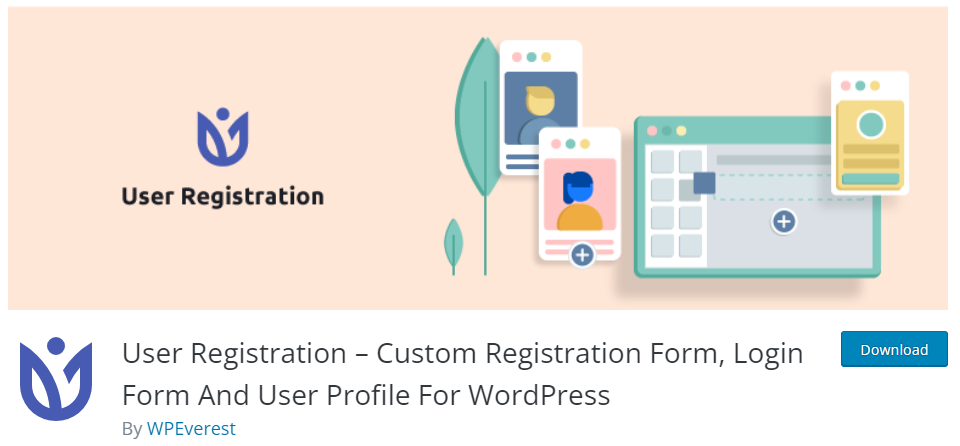 User Registration empowers you to effortlessly craft visually appealing registration forms. With its seamlessly integrated WooCommerce Integration extension, you can even leverage its capabilities to personalize your WooCommerce My Account page. It has a user-friendly interface and comprehensive features making it a remarkable choice for anyone seeking to create stunning forms or customize their WooCommerce My Account page.
User Registration makes it possible to display the 'My Accounts' tabs horizontally or vertically, which allows editing through the account page itself. The fields will be synced to your account dashboard. This plugin also has a spam protection feature which allows you to keep your store secure.
WooLentor

WooLentor is an ideal tool for customizing your WooCommerce My Account page. With its pre-designed layouts and extensive customization options, you can create a unique and user-friendly My Account page that aligns with your branding and preferences. It enables you to modify the layout, colors, fonts, and more to perfectly match your branding and preferences.
WooLentor empowers you to customize your WooCommerce My Account page to match your needs and preferences. You can control the user information displayed, modify the menu position with drag-and-drop, and create custom page templates. It's an excellent choice for anyone looking to personalize their My Account page.
Conclusion:
WooCommerce offers many options for customizing your My Account page. Choose from various plugins to create the look and feel you want for your store. Each plugin has its own unique features. With so many plugins to choose from, you're sure to find one that meets your needs.
The best plugin for your store will depend on your specific goals. All the plugins mentioned in this list offer great potential for creating an exceptional My Account page. With a little creativity, you can use these plugins to create a truly user-friendly experience for your customers.